I like this look, Judy. While the red brings out the strawberry tones in your hair, the jacket-and-tee look suits you and goes well with the books on your shelf. Did anyone think, six months ago, that would be a consideration?
So we're at 300,000 dead globally from COVID, 85,000 of those US deaths. 36 million unemployment claims since the pandemic started. "The darkest winter in modern history" is predicted, so let's talk mask style.
Speaker Pelosi has some kickin' masks.
Vogue posted yesterday that Nancy Pelosi has won the battle of the facemask: https://www.vogue.com/article/nancy-pelosi-color-coordinated-face-mask-pantsuit
Today, Harpers' followed suit, so to speak: https://www.harpersbazaar.com/culture/politics/a32478091/nancy-pelosi-style-face-masks/
She nailed it. Not too young, not too conservative and not too fun, like this writer's sock monkey and baby dino masks. She's supplementing bespoke masks with scarves worn cowboy-style. That works style-wise. I guess it does for viruses, too.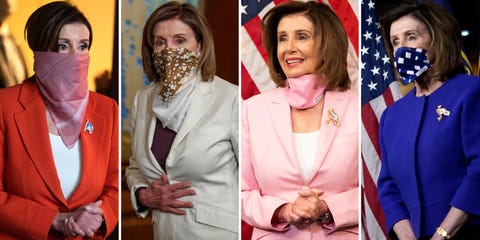 Leaves this blogger wondering: what do Judy's masks look like? Do they get tangled in her drop earrings? This blogger could not find a single image of a bemasked Judy, or Lisa or Yamiche for that matter. Will we ever know?
Tomorrow, Shields and Brooks…
(Couldn't find pics of them in masks, either. What good is this stupid World Wide Web? I don't think it will amount to anything.)