Bad picture day. Sorry! Her eyes were closed in all of the photos I took. Maybe she was so tired. I haven't seen this outfit before, though I admit I am getting her reddish drop earrings mixed up at this point. Is someone making them for her? Anyway, the outfit is fine.
I have precious little to work with today. Corey Booker said a whole lot of nothing when asked if he supported defunding the police.
I don't feel right on commenting on Tam Keith's outfit, accessories, or home decor, though they would be rich subjects to mine. She ain't a radio personality for nuthin'.
I did say I wouldn't comment on Lisa Desjardins, but she's upped her game considerably.
I like the blue jacket and how well it goes with the painting.
Gee, I wonder how much a painting like that goes for? Well, I think it's a print, by T. S. Harris. Just how much is it worth to you to emulate Lisa? $495 will get you that print. It's a start. Then buy a bunch of hoop earrings.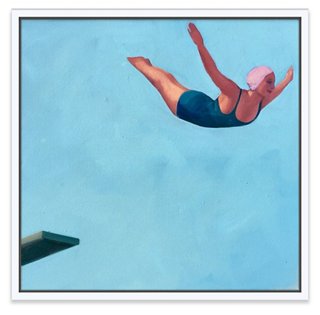 I like the painting. It's happy. I'm glad she didn't opt for, say, Anselm Kiefer:
Not the same feel, at all, I'd say.
BTW, congrats, Kiwis! You say you've eradicated COVID! Now, what to do with all of those Lord of the Rings fanatics swarming your island?
Over and out!