This is what Judy wore yesterday, September 14. It's fine. Whatever.
Gentle readers, I admit that I rarely post on the day of the show. In Wall Street parlance, it's usually at least T+1, but on weekends, it can be T+3, meaning the Monday after the show. (three days after the event). Even more lag for this post. There's only so much time I wish to spend in my office on weekends, you see.
On Friday, September 11, Judy wore the dress that launched 1,000 comments.
OK., three.
Still – it's this outfit, which she has worn before, that is the most interesting, because no one can figure out the motif! Easy enough to say it's a flower, but what kind? Poppies are red but this ain't no poppy. My favorite comment suggested it was Lucille Ball. I will go with that. Judy's hair, too, is on the strawberry-ish side of late. I thought of contacting the NewsHour to ask, but (1) they would think I was a crackpot and, more importantly, (2) why would they know better then we do? Keep them guesses comin'.
In other fashion news, Jill Biden appears to be supporting the Baltimore Ravens, in her black and purple. This is a bad look:
Turns out she wanted to wear it to show off her new boots:
They are cool, but maybe not $700 cool. The designer is American Stuart Weitzman, for those who are keeping score. He makes strong footwear. Perhaps I will see them in a consignment shop nearby after the election.
Jill should have worn all black with them if she wanted to go hardcore fashionista. The purple detracts from the boots. Or maybe just lose that blazer. That would have worked unless the dress is short-sleeved. I like the boot: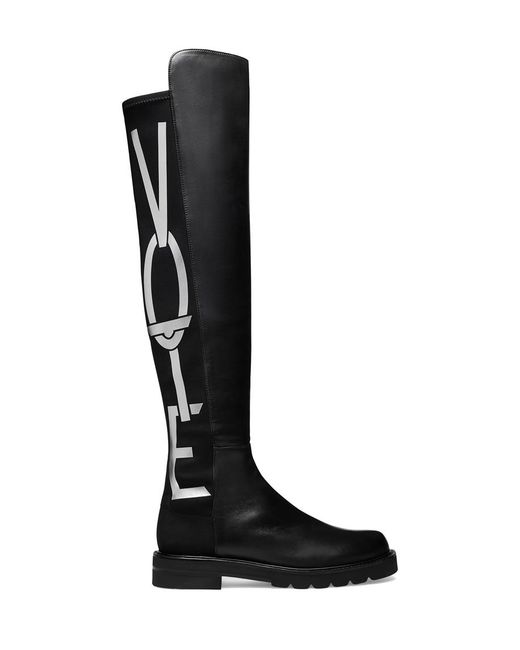 Over-the-knee boots are tough to wear, though. Black tights, a black turtleneck and a black skirt would have shown these to their best advantage in my eyes.
Fall is in the air, so I have high hopes for Judy's clothes.