Because the clothes are just so boring these days.
Maybe spring will bring new looks. One can only hope. BTW, isn't Judy vaccine-eligible due to age? I will sort of hate to see her go back to the studio, but the upside would be seeing more of each look, at least to the waist. No more surmising, "is it a dress or a top?" That's too many variables for this blogger. Perhaps, though, Judy does not want to put her, doubtless young, staff at risk, so she's staying at home. We shall see.
In a recent post, I speculated that Judy might be wearing a fall, due to the somewhat unusual back part she was sporting. Didn't look that way on the show last night.
Thanks to one of our readers, I now know that the filters they use on Judy in her home give her an overall red tinge. I do hope her hair isn't as strawberry -brassy as it appears some days.
Today I'd like to talk about her mini-bangs. I thought they were new, but a quick spin through the archives revealed she has had them all along. Her hair looked shorter last night and the bangs more flippy-do than usual. This look tells me she doesn't want the commitment of bangs but she wants to flirt with them. I say grow 'em out.
For more hair news, Lisa has always worn hers a bit longer than is suitable but lately, she is edging ever closer to full Farrah.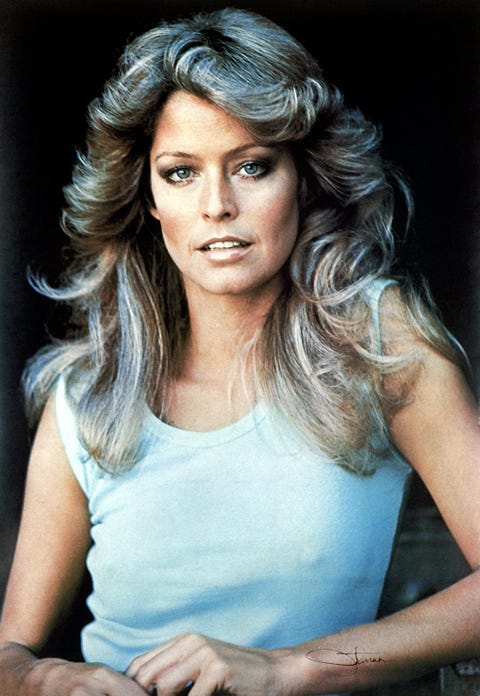 She's not there yet, but we need to stop her.
Did you know that Farrah Fawcett was short for a glamour puss at 5'6″? The things this blogger learns.
In the flat-as-Tam-Keith-hair department, I present Biden's press secretary, Jen Psaki. It's no psecret that she's pstrides ahead of anyone the former president-who-shall-not-be-named offered up. I kind of like the no-accessories thing she has going.
Yamiche is giving me nothing to work with. She's wearing that holey top again. I SAID black is not the color that suits her best. The room behind her hasn't evolved further, either.
Readers have noted that I have not heretofore commented on Stephanie Sy's looks. To tell the truth, it was because I feared she was trying to usurp Judy's position as the anchor. I am over that and ready to comment. I love this blazer. Check out its texture.
I also like that she has Behind the Beautiful Forevers on her shelf. I hope she's read it. It's a great book about living in poverty in India.
I wish I had more sartorial news but these folks are giving me next-to-nothing to work with. Come ON, people! This is about more than the news!