I guess we are all tired. I don't think Judy is even trying to delight with her outfits anymore. We need a (figurative and literal) shot in the arm. Come on, Judy. We're counting on you.
The Monday after Judy interviewed Janet Yellen, Judy dressed just like her. Why?
Unlike Christine Lagarde, Janet is not a female finance fashion icon.
On another note, an astute reader pointed out that the red books behind Amna in her living room are most likely Winston Churchill's six-volume set on WWII: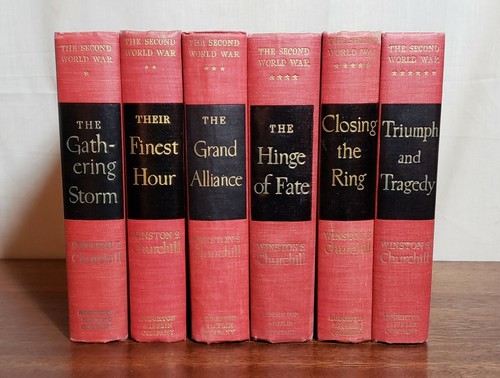 Nice, going, reader! I will try to get a snap of them in situ.
Yamiche continues to dazzle with her coats and her makeup. This beige windowpane number is just right for spring.
Readers are not uniformly enthralled with Lisa's new glasses. One challenge, with which I sympathize, is that of a dark bridge with a prominent nose. Sometimes it's better to go lighter. Lisa is trying for a look, and I admire her for it.
The cat behaved itself and the pillows were in place.
I HAD a self-imposed rule not to comment on Tam's look. Any part of it. I even skip her segment to avoid being tempted.
She is a good reporter. Let's not forget that.
But…
I received too many emails not to feature this top. The camo fabric is borderline ok on its own, but contorted into a peasant blouse? Who wears a peasant blouse to report on national news? The red vertical stripe dooms it. Could she be wearing it backwards?Definite fashion "don't."
We must not slack on fashion simply because we are one year into the pandemic, team!