Judy and Lisa were together again on Monday and clearly delighted about it!
Lisa wore a cat necklace, perhaps because her real one couldn't be with her on set:
Judy's outfit on Monday was fine, but commenters love this little bolero-jacket number she wore again last Friday. Some said it is attached to the dress and others think it's separate. Either way, it's a dynamite look.
The cicadas are here in Maryland. They are so gross and numerous I can barely leave the house. Mr. Blogger has to sweep them away from the doorstep every time I need to go out.If one more person tells me, "they're harmless. They won't hurt you" I will scream.
Does this look harmless to you?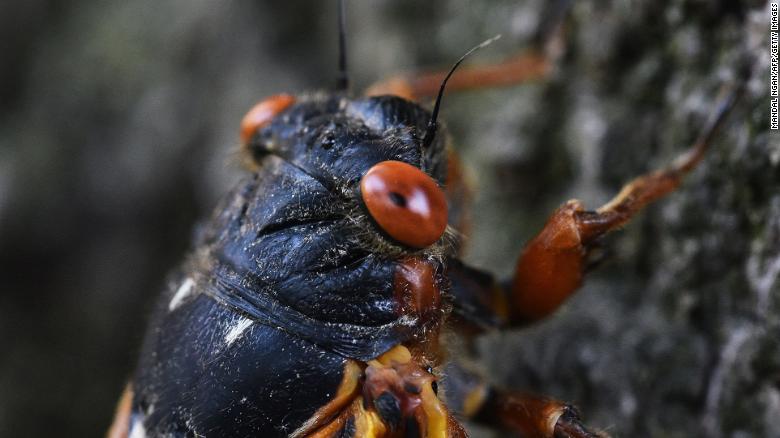 Early this morning, as Blogger's Mom noted, a plane carrying journalists to cover Prez Joe's European trip was grounded. This from the New York Times:
WASHINGTON — The plane set to carry dozens of journalists to Europe to cover President Biden's first trip abroad was on the runway, ready to take off.
The cicadas had other ideas.
Somehow, the flying insects had filled the plane's engines, grounding it and forcing Mr. Biden's aides to scramble for another way to ferry the reporters overseas. What was supposed to be a 9 p.m. departure was delayed until 11. And then until 2:15 a.m.
Perhaps it was inevitable, with billions of cicadas flying around much of the eastern United States in recent weeks. In the nation's capital, where a brood that emerges every 17 years is near its beastly peak, they have crawled up the necks of TV journalists, splattered across car windshields and gotten tangled in the hair of anyone braving the swampy, 90-degree heat.
They are just nasty. That is all. Nasty.